Hypokalemia – Hypokalemia is when blood's potassium levels are too low.
Potassium – Potassium is an important electrolyte for nerve and muscle cell functioning, especially for muscle cells in the heart.
Signs and Symptoms of hypokalemia:
weakness

fatigue

constipation

muscle cramping

palpitations
Source: https://www.healthline.com/health/hypokalemia#symptoms
You are probably wondering why I am starting off my AWUM story with medical gibberish. Trust me, that part is important to the story.
Three days before the big day, I had a sudden onset of LBM. It was so bad, I was immediately dehydrated. I had a fever and I felt weak. I couldn't keep food down and I can only tolerate small amounts of fluids. It was bad. It was explosive. It was watery. For two days, I lived on soup. My stomach cannot tolerate solid food even rice or white bread. On the third day, race briefing day, I was better. No more visits to the loo and I ate better. I was still unable to carbo-load because of the idea of consuming that much food made me nauseous.
Nutritionally, my preparation for AWUM was pathetic. I know I did not have enough carbs stored. I know my electrolyte levels were borderline. I'm supposed to amp up on these days before but I was unable to do so. Come race day, I was able to cram carbo-loading and rehydration, but I wasn't foolish. I know I did not have enough fuel in me. I was really cursing the timing for LBM. I mean, I could've gotten it on a Monday right? *insert eye roll*
I started the race the usual way, with the last pack. I am always one of the few runners who cross the starting line last. I started real slow, but even at this pace, I knew something wasn't off. I wasn't feeling it. The first 5K was my usual route. I should be comfortable running it, but I wasn't. So, up to Busay Brgy. Hall we go. Then down the hill, I ran.
It was around Osmena Blvd. when I started feeling it. It wasn't muscle fatigue. It was muscle weakness. I'm telling you, my leg muscles are used to running 25KMs. I knew something was off when at 10KM it started feeling weak.
I had to stop. I needed that next aid station to load up on bananas because I know, it was because of the lack of potassium. All those trips to the loo depleted my body of the much needed electrolyte. To make things worse, I was unable to eat bananas to replace it because I couldn't keep it down.
You know the saying "know your body", it really kicked in at this point. I could have made excuses. I could have rationalized that my muscles are still warming up. I could have continued running and probably collapse somewhere between KM12 and KM14. But I know my body. I know how I am supposed to feel at KM10 when running at 100% form and that is all fired-up. This time, I wasn't.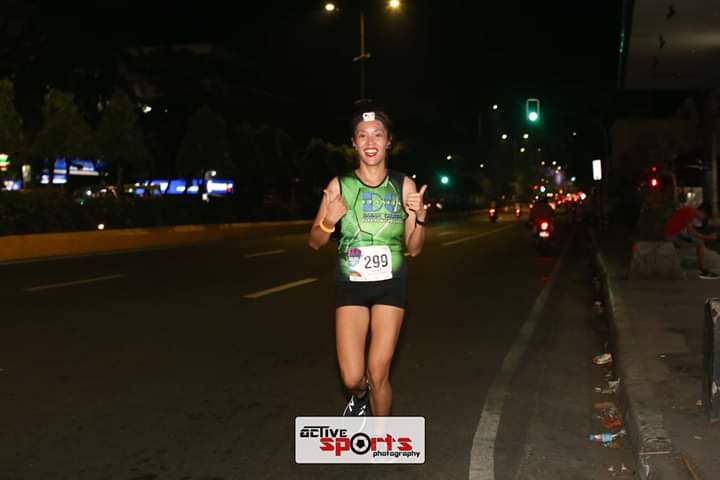 Smiling, but boy, my leg muscles are starting to feel weak.
So, I stopped. It was the Spectrum Runners station. I told Doc Gerry what I was feeling to give him a heads-up just in case. Luckily, Sir Doy was also there. I appraised him of the situation as well.
And there I was, sitting down and eating bananas like a crazy person. I sat there. I watched all the runners I passed by while running downhill pass by the station. Even after consuming 2 bananas my leg muscles still feel weak. I was contemplating DNF. I don't know if I should laugh or cry. A year of running up and down the hills of Busay. Covering 25KMs every Sunday, and setting a personal best of 2:05 for 21KM at SM2SM, for me to only end up DNFing at KM12.
OMG. DNF at KM12, pathetic for me. I wanted to slap myself for entertaining such thoughts, but I was seriously doubting if I can complete the rest of the course with my situation. Other than that, I don't want to ride the freaking ambulance, diosko!
I sent a quick chat to my DC teammate telling him, I might end up finishing at exactly 10H because at this point I already decided that DNF is not an option. The only time I will DNF is when my heart is giving me sh*t, but that point, my heart ain't complaining.
After chilling for about 15 to 20 minutes at the station, I said, "to hell with it", got up and started running slowly towards AS Fortuna. I'm telling you, it's weird because with every KM I can feel my leg muscles lose its weakness. By the time I got to AS Fortuna, my legs are feeling fresh. Fresh like I just started running.
No, I did not sprint it. I did the run-walk method. But I was able to catch up. One by one I caught up with the other runners who passed me by at KM12. To tell you I was happy at that point is an understatement. I was laughing at myself. I was dancing to the music in my shuffle. I literally came back from behind. My legs are in for the long haul, so it seems.
Of course, I know I still needed to load up on potassium, sodium, & glucose. So, with every aid station, I either eat a banana or drink coke. If there are mangoes, I eat them too. Mangoes are actually high in glucose. I forgot which station offered some. I added salt to my Gatorade. I did all these throughout the course.
When I got past KM25, I breathed easier. Oh well, just another 25km to tackle, but I know this time I'll be dealing with fatigue. You'd think after what I've been through it was going to be smooth sailing from then on, it wasn't.
When I got to Canasaga, my toes were cramping. They were crossing over each other. Imagine how weird that is. My arch was cramping too. I know it's weird. I don't feel cramps on my calf. It's my toes, my toe arches and part of my inner thigh. These cramps aren't painful, but it makes running harder because hello, lotus feet is that you?LOL. Plus cramps are involuntary muscles contractions, it also fatigues the muscles, so my inner thigh was feeling it already. I had it stretched at the aid station.
The relief was temporary because the moment I was descending the new bridge towards the MEPZ turnaround, the toes on my right foot are crossing over again. There was no other choice but to walk tiptoe to stretch it. Good thing, it doesn't happen on flats only on downhills. Sometimes, when walking on tiptoe is not an option, the other way to relieve it is to gun it down.
I'm telling you, that road to MEPZ turnaround is a long-a** route. It felt longer than AS Fortuna or Canancalan. Then again, I was already at KM30+. Who could have thought I'd get there when earlier I was contemplating DNF and doubting my capacity to finish.
Do you know what I was telling myself while crossing the new bridge? I was thinking, if I was able to walk 24H after cesarean section there is no reason for me not to finish this course. I freaking had CS twice and walked around the next day with the surgical incision still fresh and no pain relievers. Trust me, the pain is out of this world.
So, I powered through the Mactan Island course. Stopped by the BARC station for a quick photo-op. When I got off the Old Mactan Bridge, I was counting down the kilometers to KM44, my team's designated aid station because I really needed that massage ASAP.
There really is a reason why I don't get massages at every aid station. You see, different people have different methods of massaging and it hits different muscle groups. I don't want to subject my leg muscles to unnecessary manipulation because, in the long run, it will do more harm than good. I learned that the hard way during my first AWUM in 2015. Of course, it's a runner's prerogative and this is mine.
KM44. 6 more kilometers. Best massage ever, but my leg muscles were already taxed. My glycogen stores are nearly depleted. The last 6KM is going to be powered by pure grit.
Guys, need that massage now. LOL
With my legs screaming for rest. My stomach screaming for food. I needed that FL ASAP. Do you know what they say about the last few kilometers? It is always the hardest. Your muscles were already taxed. Your body is tired. You are about to shut down.
It was the hardest 6KM run my life, no sh*t. I knew I did not make the sub 6 or sub 7 target, but I couldn't bring myself to feel disappointed because I know what I had to deal with at the start of the race. I could have ended up in an ambulance with a potassium drip. It was a huge setback, but I was able to beat it in order to finish at a decent time of 7:17 at the same time breaking my 7:45 record at Olango Ultra. It was also a huge improvement from my 8:33 finish last year.
There were also what ifs. What if I ran at 100% capacity? We'll never know, but I am looking forward to breaking that 6H mark or the 7H mark.
I'd be lying if I tell you all the 25KMs Sunday run did not help because it did. My muscles were used to this distance. It helped me pinpoint the moment something was wrong. It also helped me determine my capacity. I am so used to this run-walk method, I can catch-up with someone running at a moderate pace without burning out.
Crossing that finish line was my proudest moment because I beat the odds and I prevailed over my alter ego who has been planting seeds of doubt ever since I stopped KM12. The results may be off the target, but they were still great all in all.
So, what lessons did I learn this time?
Know your nutrition

Know your body

Trust your instinct

Trust your training

Muscle fatigue vs muscle weakness: know the difference

Respect the distance, be it 21, 25, 30, or 50 kilometers.

If all else fails, lean on grit

Do not take electrolyte loss for granted because the price you are going to pay is going to be great, trust me.
Made it to the FL, intact.
*********

Photo credits:
Reynan's Pics
Active Sports Photography