This article is submitted by Kit Corteza Quiseo by his journey Mt.Banahaw 360 100km Ultramarathon Leg3. Kit is one of the greatest Cebu's barefoot runner.
Since I had my first ultramarathon in 2011, I've had my fair share of what I can call the best ultras I've participated. However, the Mt. Banahaw 360 Ultramarathon is perhaps one of those that I can dub as hands down perfect.
First, I signed up for the Mt. Banahaw 360 with the mindset that I am not racing at all. I considered it merely as a vacation of sorts, something that will free me from the daily grind of home-office-home routine. But the race course proved me wrong. It was one of the toughest I have encountered and the moment my feet started to pound the road — that difficult yet comfortably familiar feeling of being free — I realized that I was there not only for a leisurely vacation but to also endure once more.
I tackled the first 5K with Art Mulder (my matinee idol in Cebu Running community!). Everything was going perfectly well when bam! — a sudden jolt of pain on my left foot stopped me in my tracks. It turned out that I just stepped on a tiny sliver of broken glass. I tried to manually remove it but it just won't budge so I decided to suck it up. "I'll just take it out at the finish line," I comforted myself. By the time I reached 10K of the race course, I could already feel the first signs of struggle with the sudden shift in elevation and the throbbing pain on my foot. After a couple of tough kilometers, my body damped with sweat– naka-ubo ko sa kalisod, gatulo akong laway sa hangos. I can barely feel my legs. Yet I knew that I can only obtain genuine satisfaction from the race if I simply endure by putting up a real fight with the struggle within — to finish or not. I decided to go for the former.
Although there was nothing fancy waiting for us at the finish line, the way the organizers (Prince Multi Sports) handled the race — from proper orientation to reasonable cut-off times to sufficient hydration stations — was also a factor of my immense satisfaction of the the Mt. Banahaw 360 Ultramarathon.
In addition, I only personally knew two people in the race (Prince, the event organizer and Art) but I could still feel the warm camaraderie amongst the runners. I was also overjoyed when I met fellow barefooters Jeff Kristoffer Lualhati and Run A Dub Stylee for the first time during the race.
And there's the food! The pancit special of Tayabas City particularly stood out. I was not supposed to eat it because it contained meat but I could not resist the great hospitality of the locals. They even offered to separate the meat for me and I did not regret saying yes to the offer. It was, by and large, one of the tastiest pancit I've had to date.

Ultimately, the Mt. Banahaw 360 was one heck of an adventure on my end. It provided another opportunity for me to test how far I can go and meet new people whom I would love to run again in the future. I can't wait for the next one. 🙂
Why I Run Barefoot

It's not uncommon for people to ask me why I choose to run barefoot. It all began when I witnessed Edwin Collina, Rico Dale Wesley and Ramil Garces ran barefoot while doing marathons here in Cebu. It was also around the same time when I was still trying to figure out if I'll completely embrace running as a lifestyle. I decided to try barefoot and I was initially astonished with the outcome. I rediscoveredthe child in me and it was not until that time that I felt truly reconnected with nature. Direct contact with the rough hard surface of roads and pavements made me feel more in tune with my surroundings which in turn resulted to a significant improvement in the way I ran.
With barefoot running, I haven't experienced any type of knee injury and I'm extremely grateful for it. However, I admit that I have accidentally stepped on objects, whether sharp or blunt, that have made running more difficult. Yet over the years, I have come to an understanding that the more pain you can endure, the more fulfilled you will become after each race. This, for me, is the true essence of running barefoot and I have no plans of stopping anytime soon.
With due respect to my fellow runners who choose to wear shoes, I believe that fulfillment from running would only depend on your personal goals, philosophy in life, and whatever feels comfortable to you. Hence, I am not trying to reinforce the idea that barefoot running is more fulfilling than wearing shoes. It's all a matter of choice.
Thank you to my fellow barefoot runners especially to my running partner Villy Ponferrada for embracing and savoring our struggles. And to all my fellow runners, thank you all for your undying encouragement.
———————————————————————————-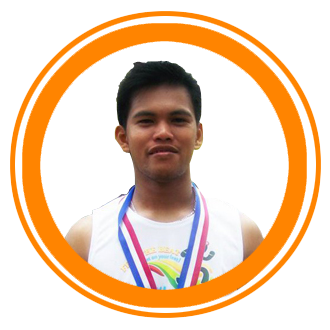 Posted by: Vissuelo "Soybiyz" A. Rebojo.
Your contact person if you want your running event be posted in Aktib.ph or you can email also for your ran, swim, bike or any outdoor activities that can inspire everyone, vissuelo@aktib.ph
Like us on facebook Aktib.ph and you can reach me at Soybitz Facebook.
#Life is boring without Running.