WHERE TO FIND XTERRA PHOTOS: Directory listed below, after the story.
Initial photos uploaded to aktib.ph photos. Feel free to claim and share. Browse Xterra Cebu Photos here >>.
Related Story: Xterra (Liloan, Cebu) 2013 PressCon: Who's Who, Fangirling & Random Pics of the Trail Route
Xterra Off-Road Triathlon & Trail Run: Rumors & Tips
Xterra Cebu Events: XTERRA OFF-ROAD TRIATHLON SERIES
XTERRA TRAIL RUN
—————————————————————————–
I was hoping to give live twitter updates from the Xterra Triathlon Philippines, but my mobile internet was as broken as Carina Wasle's bike. That, at first, I was also as disoriented as her when I saw her.
So instead, I'll just give a not-live random updates from the event earlier. Let me start with the last scenes as they're the freshest in my mind. Please note that my triathlon knowledge is as bad as my photography skills so I can be so off with my comments.
#353 HOTTEST Finisher
I was lucky to have a glimpse of the hottest male finisher of the Xterra Full triathlon. It was past 1PM, the heat looked unbearable, when the last athlete arrived.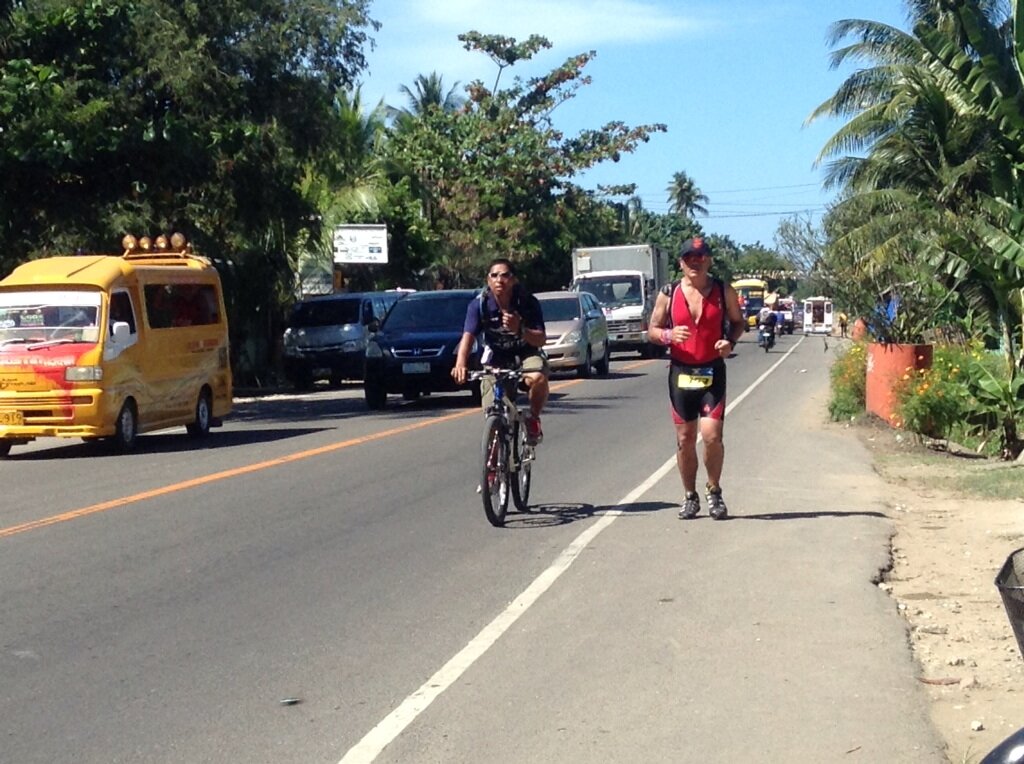 10x HARDER
I bumped into Alan Choachuy, who is popular as one of the Biggest Pinoy Loser (a reality TV show). And as being "chismosa," I asked him how it was. He said that the route was difficult but is totally worth it. Comparing to last year's Xterra, this year's edition is 10x much harder. He said that he had to pause before going downhill as he needed all his energy to maneuver the downhill parts.
Congrats, big winner!
BATTLE SCARS
I was not sure if it was his scar or his pretty bike that made me stop him, and ask a bit of how was his Xterra experience. He said that because of his goal to defend his standing last year, there was much pressure for him to really push hard. Thus, he fell off from the bike. But it was well worth it as he was able to finish 3rd in his age group.
I also asked him if this year's route harder. He said it's really harder, around 20% harder.
Congrats, Richard Santiago!!!
MacRitchie Trails SG Must Be Proud of this Guy
A first-timer of Xterra Philippines, this Singaporean guy claimed that trails here are way different, and much harder compared to his Singapore playground. But nevertheless, this guy finished 3rd place in his age group, making him a qualifier to Xterra World Championship in Maui, Hawaii. But before that, he will be participating in the inaugural Xterra Malaysia next month.
Somewhere in SG, a park connector must be so happy of your achievement!
JUMP SHOT?!?
I asked these 3 guys to give me a jump shot, and all they could give me were smiles!
Congrats, handsome guys!
LAST BAR STANDING
Congratulations, Wagee, for making it before my camera went dead!
LATABAN KING
Consolacion is definitely the home of the strongest athletes. After being unable to join last year's Xterra because of getting injured before the race, this time, he made it to the starting line, and arrived at the finish line strong.
Congratulations, neighbor! If I'm not wrong, he was the first from team TTB in the full triathlon to arrive.
BDM 102 REPLACEMENT
To make up for not being able to show up at the BDM 102, in which she registered, she just instead join Xterra in a relay team. As expected, she did the run part.
Congrats, Coleen and to your team!
HELLO GoPro
Mr. Handsome with GoPro, please do not cut me out from your video. You were looking very strong, and handsome.
KIM YEPUDA
Madz aka Kim Yepuda came in first of the Xterra Lite Triathlon Relay, which made their Team Bigring the champion of Lite relay. Her run time was 39minutes. This lady is quite speedy. Her time just tells how the trail can be tricky.
Congrats, Team Tribu!
UNFAIR WORLD
Isn't it unfair that even after swimming and tortured at the mountains, they can still look these pretty?!?
Cebu does not only have beautiful trails, but also beautiful athletes! STRONG is the new sexy!
PERFECT TRIATHLETE GIRLFRIEND
Seeing beautiful roaming women around Seafront Beach Resort, the starting/finish area, made me realized that it's probably not easy to have triathlon boyfriends — always waiting for them to finish training and race.
I saw in Mickie Go, that perfect triathlete girlfriend. For one, she's a triathlete. She's good at photography, and writing. She could document nicely a boyfriend's and her triathlon adventure.
GO VICE-MAYOR
A triathlete wife asked me to cheer for her husband, John Ungab. I was at the very front of transition area from swimming, and since I had nothing much to do, I cheered for the Xterra Lite. I was probably the only loud person there when a woman requested if I could cheer for her husband.
She told me to shout, "Go, vice-mayor." Finally, I felt useful.
And, isn't she such a sweet triathlete partner!
MERMEN
The first to get out from the swim part of Xterra Lite was from Team Bukidnon, Louie Lalanto. But, I guess he came in as second placer of the Xterra Lite.
Arriola, from USC, was 3rd in the swim part of the Full Triathlete, after the pro athletes. He was part of a relay team, Team Reuben. It was amazing that, in a way, he was able to compete with the pro's even just in the swim part.
Congrats, Arriola and Team Reuben for getting third place in Xterra Full Relay.
MERMAID
The first female, Cianyl Jamae Gonzales, to get out of the swim part of Xterra Lite Triathlon, and she was 4th overall in the swim. Go, girl power!
TEAM MINDANAO
It was nice to see representatives from other parts of the Philippines.
I'm not really sure if this was Jong Sajulga. He's one of the athletes I was really looking forward to but with athletes zooming in front of me, it was just so hard for me to figure out who is who. I think he came in 2nd or third for the Filipino elite. As first placer was Joseph Miller of Team Bricks, Cebu.
Philippine Eagle represent!
Team Mindanao showing off his sexay legs!
And, of course from our neighbor, Team Bohol Tri.
PRO ATHLETES
I miserably failed at this part. I cannot fake it that I do NOT know much about Xterra off-road world. I promise to do better next time. It will be 2 more years in Cebu so yaahh, hopefully if I can't be a triathlete, at least I could do better on telling a story about it! Here's a quick random.
So the Xterra World female champion 2012 at Maui, Hawaii became the champion here, Lesley Paterson.
Cebu must be a lucky charm to Ben Allen, that he is again the champion this year. Dan Hugo came in second in which he tweeted that he had bike problems twice at the route. It just proves that Cebu trails probably favor Ben Allen. But we'll see next year!
Picture below was taken yesterday at the "Meet the Pros" press conference. Ben Allen and Jacqui Slack are both pro athletes, is a lovely couple. Both of them trained at Australia before coming here.
Sharohm Abdullah was my bet because he's the closest Pinoy-looking among the pro's. He's Malaysian that's why. I saw him finish but I was no longer able to take note of his place. But I'm sure he's in top 10 (There were probably 10 pro athletes).
Congrats, neighbor.
He was with Xterra Malaysia organizers at the press conference. This April 27-28, 2013 will be the first Xterra in Malaysia. A bit of surprise since Malaysia has been known for their adventure races.
If you're interested with Xterra Malaysia, check xterramy.com.
There's so much I want to write down here. I had used up all the electronic stuff, from my phone to camera to tablet, I had with me to capture moments. I felt a bit sad to skip a lot of them. But I have to put this computer down so I can still "race" tomorrow the Xterra trail run.
So where to find your Xterra Off-road Triathlon (Philippines) pictures, following are the photographers I knew who were there:
* John Domingo — just visit his facebook from time to time, he would surely upload them.
* Michael Ocana — the official Xterra photographer
* Mickie Go of Banana Babies Photography  — already uploaded pics so go check it.
There were more photographers so I'll keep this list updated.
We'll soon also be uploading Xterra off-road triathlon Cebu, Philippines pictures at aktib.ph photos. Kindly check it.
——————————————————————————-
Posted by:
Rose Buenconsejo. A runner who runs after runners, and their stories, and her dream to become a NEDBANK.
Promo Girl, runroo.com
View her aktib race calendar >>